Caldera solutions are eligible for free trials, so you can see for yourself how our products can help you maximize your productivity.
This article will guide you through the process of requesting a demo license for CalderaRIP or Prime Center. Before requesting a demo license, we recommend that you review the installation requirements for our products at once:
If you don't have a compatible OS, you can use any of these open-source operating systems:
Info
An Internet connection is required to get a demo license. If your workstation does not have Internet access, or you do not wish to register yet, please contact our sales team directly.
They can also guide you in case you want, for example, to test CalderaRIP through a virtual machine.
1. Create a WorkSpace account
WorkSpace is the single access point for all Caldera resources. To create an account, go to WorkSpace and fill in the account creation form. You will receive an activation email soon after.
You may also be interested in:
2. Request a demo license
Once you have your WorkSpace account, go to the "Caldera license management" section. You can access it in the "Download & Install Area" drop-down list on the left menu, or by clicking on your name (on "My registered licenses"):
In the "Request a temporary demo license" tab, fill in the form with the operating system you are going to use, the product you are interested in, as well as the number and specifications of the devices you need to pilot: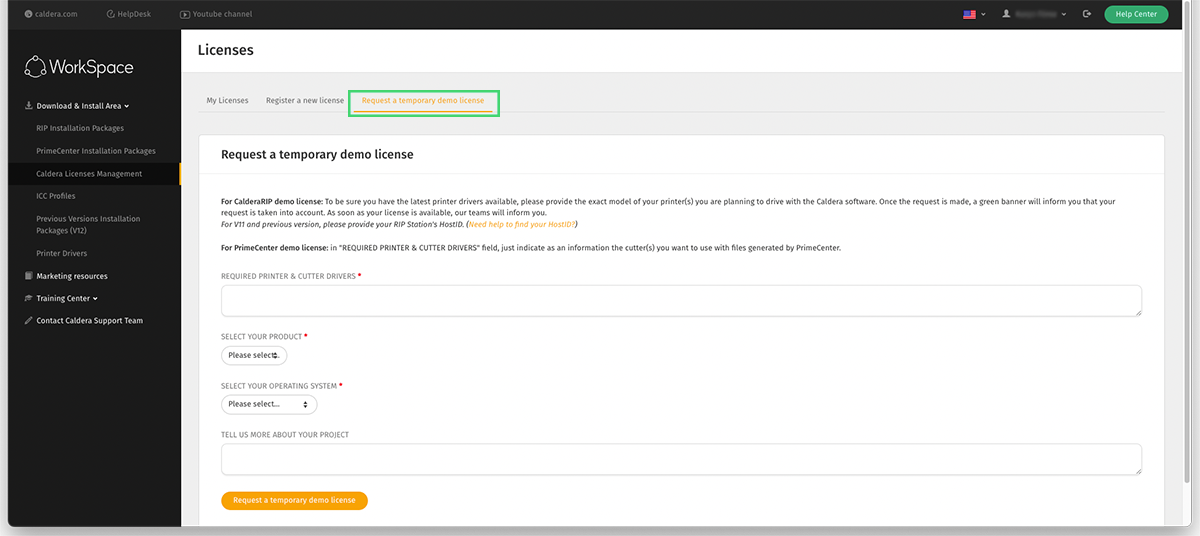 Then submit the form by clicking on "Request a temporary demo license".
A green banner will then appear indicating that your request has been successfully submitted.
Once the request has been processed by our team, you will receive an email with an access number and an activation code (as well as some of the following steps of this article):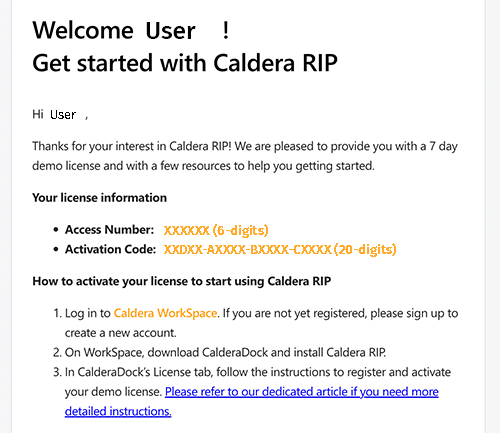 3. Activate / Register your license
The activation & registration of new licenses is a simple process that can be performed through our CalderaDock toolbox.
Get its latest version from WorkSpace's dashboard, and then read the complete guide to activate & register your demo license.
If you have any problem with the installation of CalderaDock, click here.
Info
Note that the former (manual) license registration is still available if needed. Refer to one of these videos for more details:
4. Install your Caldera product
Get CalderaRIP or Prime Center's latest versions from CalderaDock or from WorkSpace's dashboard. After downloading the installation file and clicking on it, the installation Wizard will guide you through the process. But if you need to, you can also refer to each of the guides:
5. Explore your Caldera product!
Start your Caldera experience by checking out all the modules that integrate your software.
6. Have any issues with your demo?
Contact us using the link below to get assistance with your demo license.