In this article, we will explain everything you need to know about the renovation dates of your CalderaRIP software. But, before that, let's recall some basics:
How does a software-based license work?
A license is a permission to own, use or do something in particular. Caldera offers you various products and services that you can use thanks to a physical license (dongle) or a software-based digital license.
Once a CalderaRIP software-based license has been purchased, the license information and activation codes will be provided by e-mail (directly to the end-user, or to the commercial partner handling the installation). Regardless of the case, your license should always be registered in your own WorkSpace account.
Key definitions
Access number. This is a unique number per license, made up of 6 digits and sent by e-mail after the purchase.
Activation code. This is a 20-digit code that is sent in the same email mentioned before.
License server. This is the computer or station that hosts the license.
Fingerprint (.C2V) file. This is a unique identifier that describes the hardware configuration of the computer or station where the license was hosted (such as the network card and other components).
Advantages of a software-based license
No need for a dongle, since the license is linked to the unique hardware identifier we mentioned before (the fingerprint .C2V file)
No risk of breakage, loss, or theft of the dongle.
For full details on activating a software-based license, check this video:
CalderaRIP license renewal
Through CalderaDock or WorkSpace, you will be able to see the status of your license, its validity, and other details (click on the
"View" icon):
CalderaDock: Where to find my license details?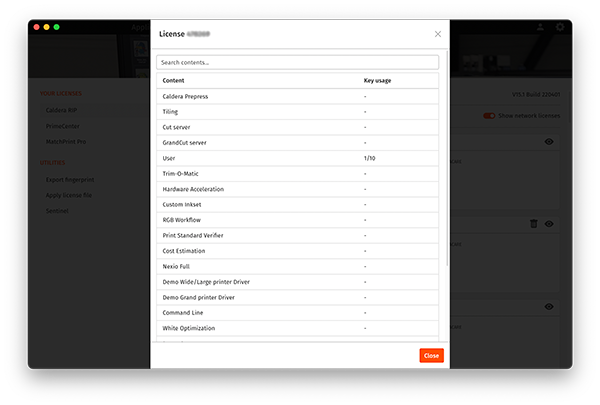 WorkSpace: Where to find my license details?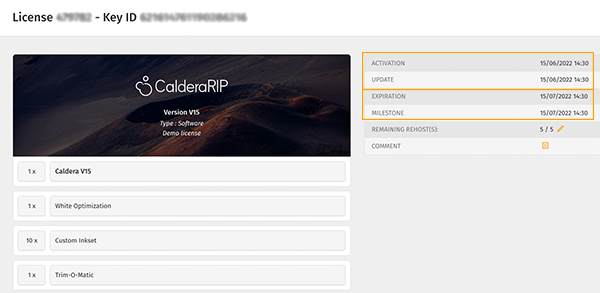 The validities of a license can be:
Limited, such as the subscription-based or demo products
Unlimited, such as the CalderaRIP perpetual license
Although CalderaRIP licenses are perpetual, they require a monthly renewal to ensure the ongoing maintenance of the software according to the latest available updates. This renewal is what we call the "Milestone date" and is carried out automatically every 30 days through the Internet, so an internet connection is needed at this moment.
Info - You don't have to worry about your internet connection for the whole month since you only need it on the first activation and each renewal day. Note that:

If your RIP station had a connection problem on the renewal date, a manual renewal will be necessary. Learn more with this complete guide.
If your RIP station had an issue with its system date, its firewall, or if it had other unexpected behavior during the renewal date, read this article.
What does each of the dates on my license status mean?
Base dates
Activation date. This is the date on which your software was first registered in WorkSpace. Once your contract starts, make sure you register your license as soon as possible so you don't miss out on Caldera benefits for a minute.
Validity date. Is the expiration of the current renewal period (depends on your license).
Expiration date. Is the date on which the license will stop renewing automatically (depends on your license).
| | | | | |
| --- | --- | --- | --- | --- |
| | | | | |
| | | Info - Depending on your time zone, the validity date may have one day of difference. | | |
| | | | | |
Renewal dates
Update date. Indicates the last date on which your license was automatically renewed. If the license is perpetual, this date will automatically change every 30 days.
Milestone date. Indicates the next date on which your license will automatically renew. This date is set 10 days before the expiration (or validity, depending on the license) date.
Understanding license dates
Case of a demo license

Case of a full license

Go further: multiple-station license management (Client-Server Architecture)
In this article, we teach you the basics of what your Caldera software-based license involves, how it works, and the important dates to take into account.
If you are a more experienced user, or you work in a complex production environment, the following video will teach you how to distribute, configure and share your RIP's working tools: